Some of us were blessed and moved into a house with a generously sized closet.  Other of us weren't so lucky. With the holidays on the horizon it's important to have room for all your festive sweaters and party outfits.  This can be a hard thing to manage if you're in a less than desirable closet situation.  Handyman Matters is here to prove that even the closet-less this year, with the right organization, can have the wardrobe of their dreams.
First things first. Figure out your closet needs. Here are some questions to consider:
Are you sharing a closet?
If you are living with a significant other, odds are, your closet is not just your own.  While separating goods isn't all that complicated, creating enough space for a two in one wardrobe is.  The key is to keep drawers low, and racks high.  Oversized dressers are something to avoid in this scenario.  Not only do they take up large amounts of space, but they also usually end up being disorganized drawers of balled up clothes.
What kind of closet do you have?
This will help to determine the kinds of things you can fit into your closet or, potentially, your DIY closet needs. Do you have a reach in closet, walk in closet, tiny coat closet, no closet, or an extra bedroom closet?  Measure your viable space, think about blind spots (dark corners, parts not visible from the door), think about height, and keep a little list of these notes on you for when you look for organizational installs.
Do you have a lot of long dresses/jackets?
If so, you will want to place you hanging bars higher, and this may limit the amount of shelves you can add on.  If not, consider hanging a tiered rack on the back of your closet door, and using the rest of the space for parallel shirt and pant bars.
How many shoes do you have?
Shoes are pretty much the main determiner of where you put your shelves.  Some of us need a series of like five shelves to house everything, but others of us may be able to get away with just a short rack at the bottom of the closet.  Another thing to factor in is racks aren't boot or large shoe friendly.  Typically men's shoes or multiple pair of over-the-knee boots call for adjustable shelves.  Shelving provides more storage capabilities for long or tall shoes.
What are your options if you don't have a closet?
Wardrobes are a wonderful solution for the closet-less.  They often come with shelving and drawer add-ins as well. However, most wardrobes run at about $200+, and can be a pricey investment, especially for those with larger clothing collections.  The best solution to this conundrum is rolling racks.  These can be made, DIY, from piping, or purchased for very little (some start at $15).  Make sure to organize your clothes in an eye catching way, as these racks will be exposed.  Unorganized rolling racks can really bring down the aesthetics of a room.  Try tiering your clothes by color and length.  All dark colors together, tees first, then button ups, then tunics, then dresses – mini/midi/maxi.
 Here are our favorite closet options:
ALGOT – Closet system from Ikea.
Elfa – Closet organizing system from The Container Store.
ClosetMaid – Custom closet installs
Garment Rack – Bed Bath and Beyond.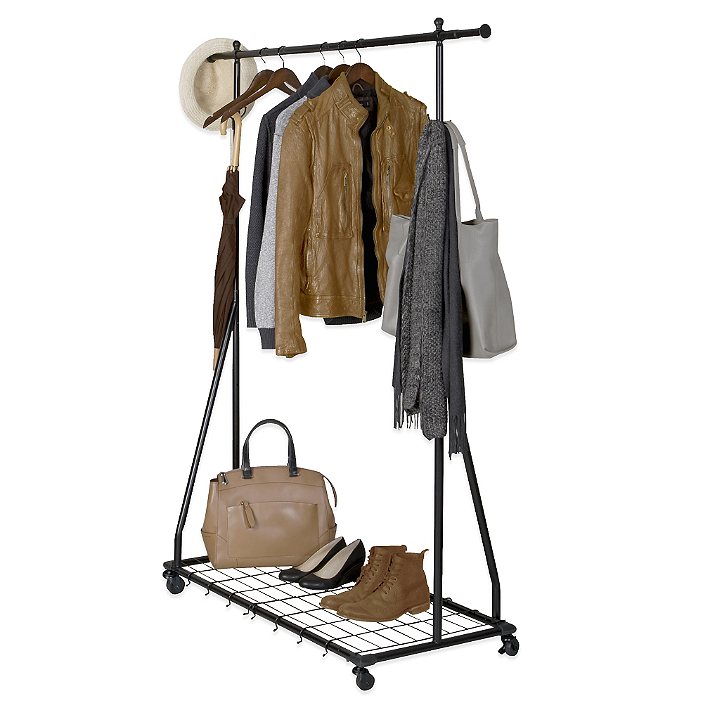 For any of your organization or installation needs – Handyman Matters has got your back!  866-FIX-MY-HOME