One of the biggest perks of owning your own home is being able to have a private outdoor space.  Your dogs can run free, you can host barbecues, or you can soak up some rays with your family.  As the weather gets warmer, step outside for a breath of fresh air.  Turning your backyard into a summer getaway will make staycations and spending time at home with family that much more fun.  Perhaps you're wondering how to go about landscaping an outdoor space – well we have some ideas for you.  Explore your options so this summer can be one for the ages…
Decks aren't the only option for finding a shady retreat.  Pergolas are the affordable alternative to a deck, providing just the right amount of relief from the hot sun.  While practical, structures like these also have a decorative element.  With the right green thumb, a vines can grow along your pergola like a Tuscany.  For the beer enthusiasts out there, this may be a great excuse to grow your own hops for home brewing.
Follow the yellow-brick-road, or something like it.  Stone additions to your home add a magical element, invoking stories of old roads, tired travelers, and a hopeful destination.  Visually and physically guide your guests through your backyard. Circle exceptional plants, walk visitors past your English gardens, or visit hidden ponds with your walkways.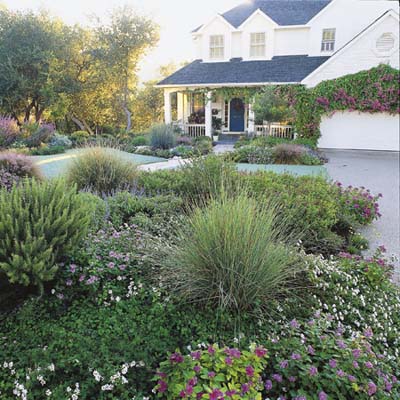 There's a lesser known fact that you don't need a lawn to have a backyard (or front yard for that matter).  While the word lawn and backyard may be interchangeable their functions are not.  Especially in drier climates, opting for natural grasses and stonescaping may be preferable to grass.  Feathered plants like fine fescue, buffalo grass, or blue grama make take the typical lawn to a more interesting and whimsical place.
Having a lush garden doesn't mean having to overhaul you backyards current soil situation. Pack yourself a fertile, raised garden.  Up and out of reach from some of the typical culprits of plant damage, these gardens are the perfect solution to growing a healthy crop of vegetables or flowers.  Starting a controlled garden can also be a fun activity for the kids to learn about science and biology!
Does your backyard have a plan?  Get a free quote from the experts and begin to plan your summer getaway today – just call 866-FIX-MY-HOME or head to handymanmatters.com.